THE PALMAR CLUB IS COMPOSED BY THREE VILLAS IN ATHENS, ATTICA, GREECE: THE VILLA ZENOBIA, VILLA MARYAM AND VILLA EMMANUELA AND ONE VILLA, THE VILLA APHRODITE IN THE VILLAGE MYRSINI OF SITIA, CRETE ISLAND, GREECE.

You can come in 30 min from ATHENS INTERNATIONAL AIRPORT to PALMAR CLUB by Car if you follow this map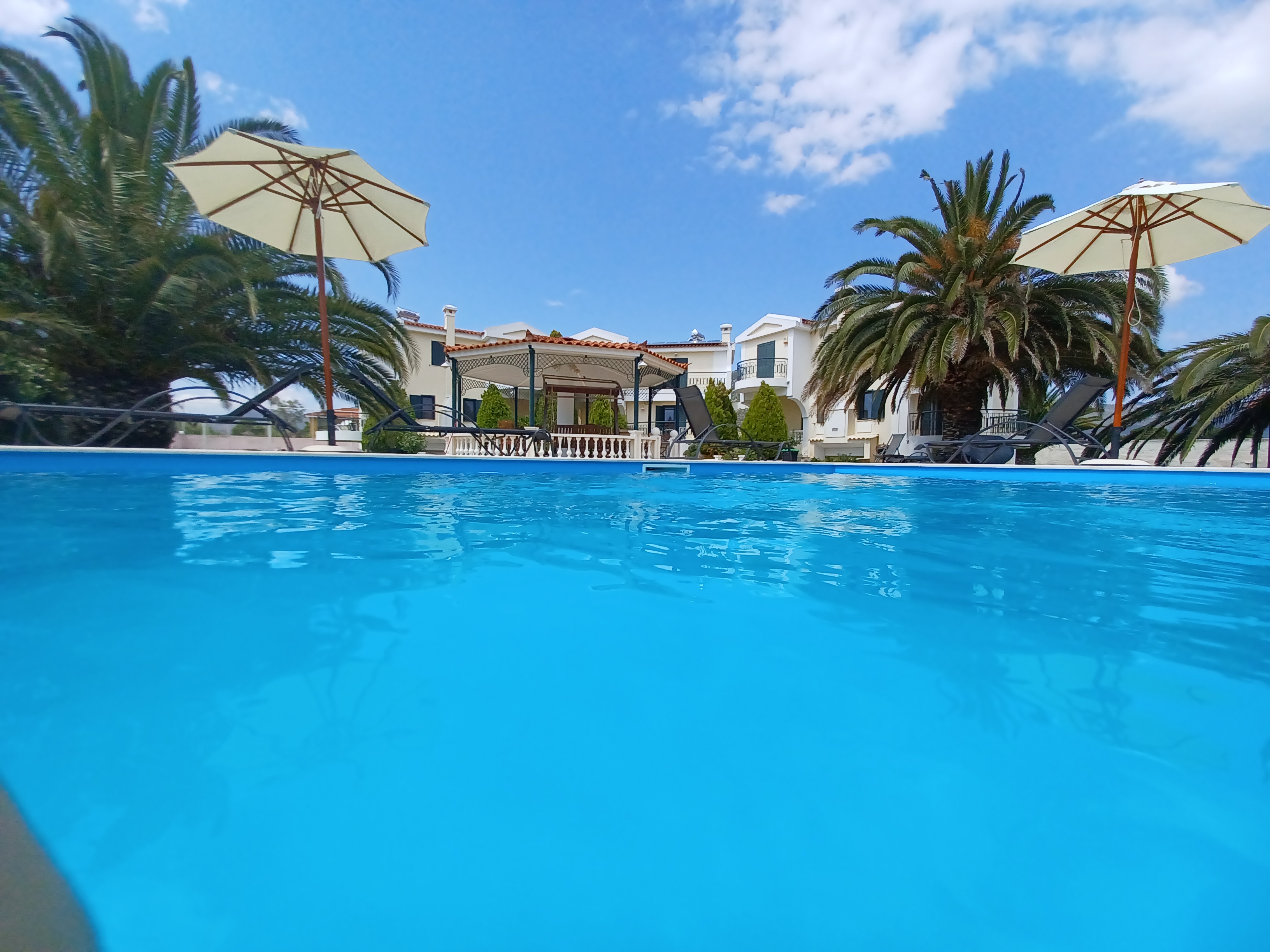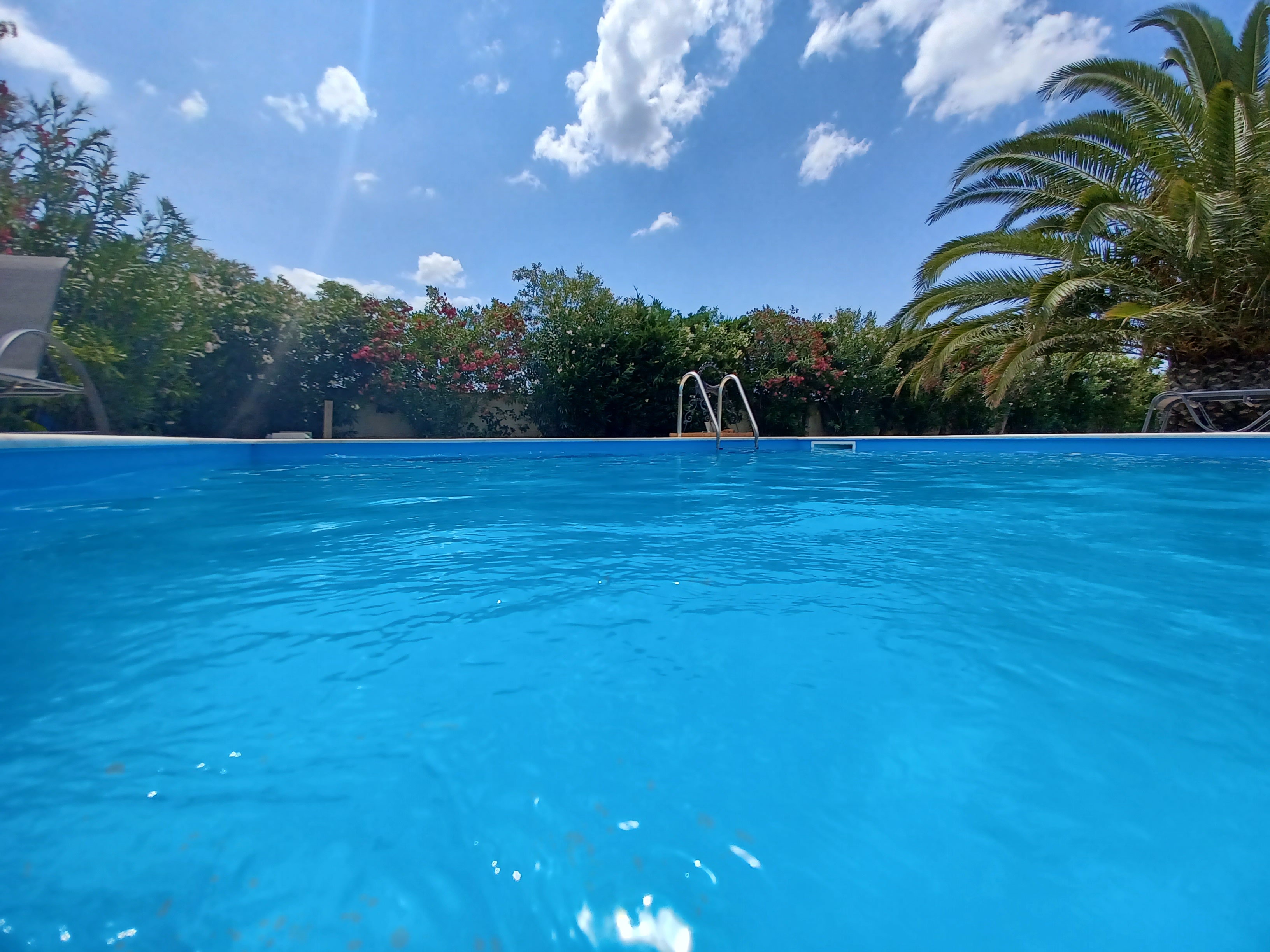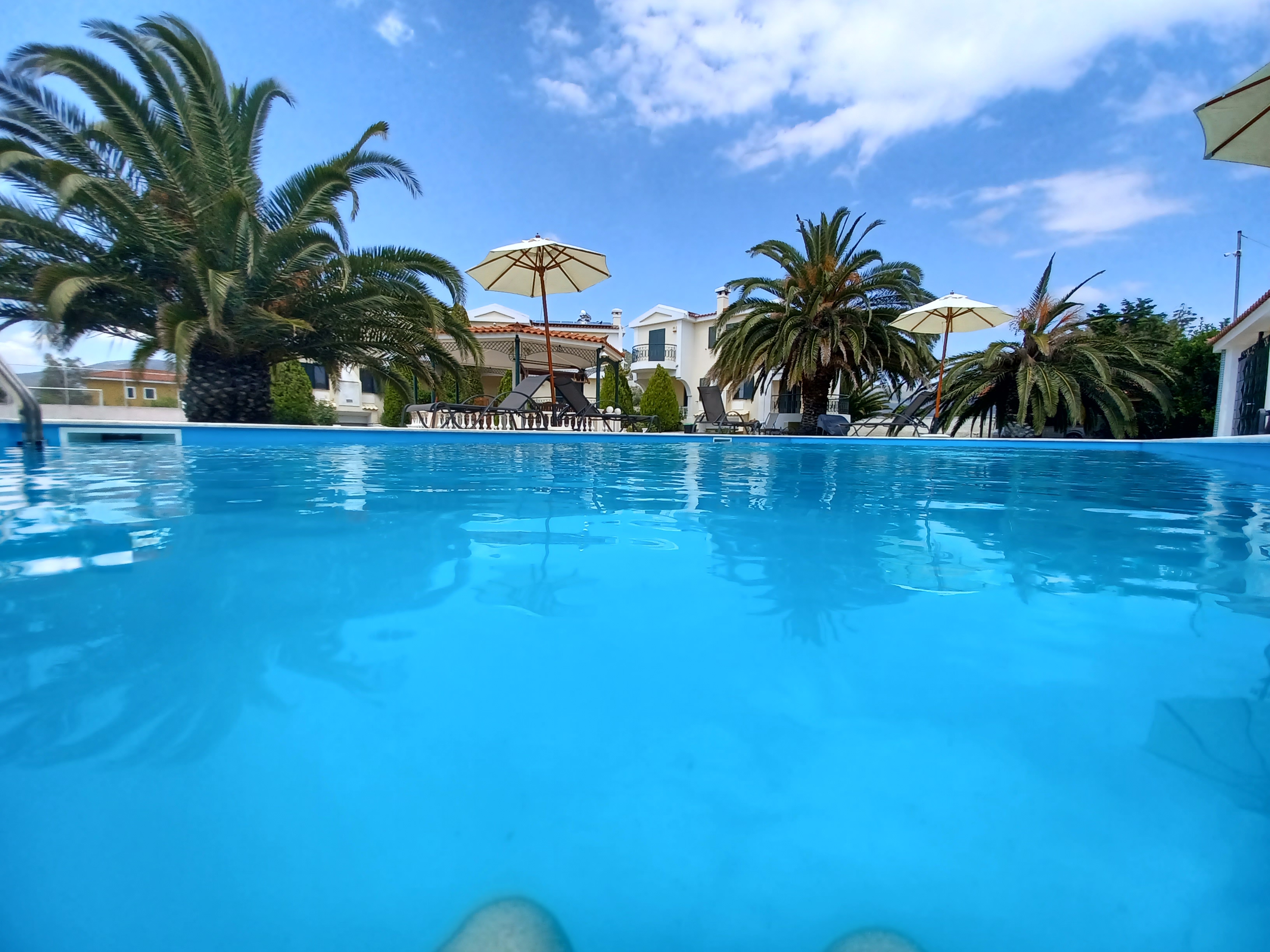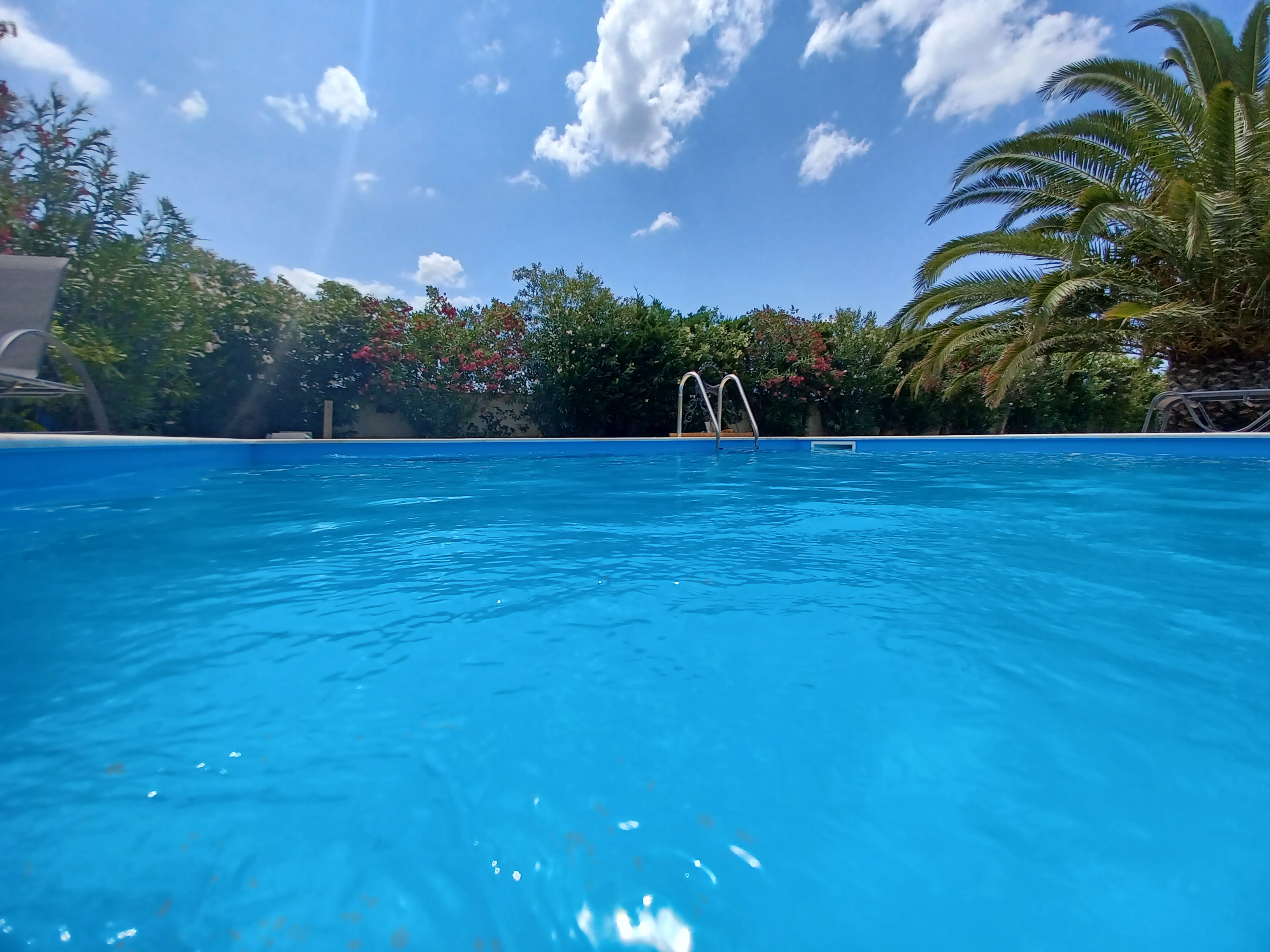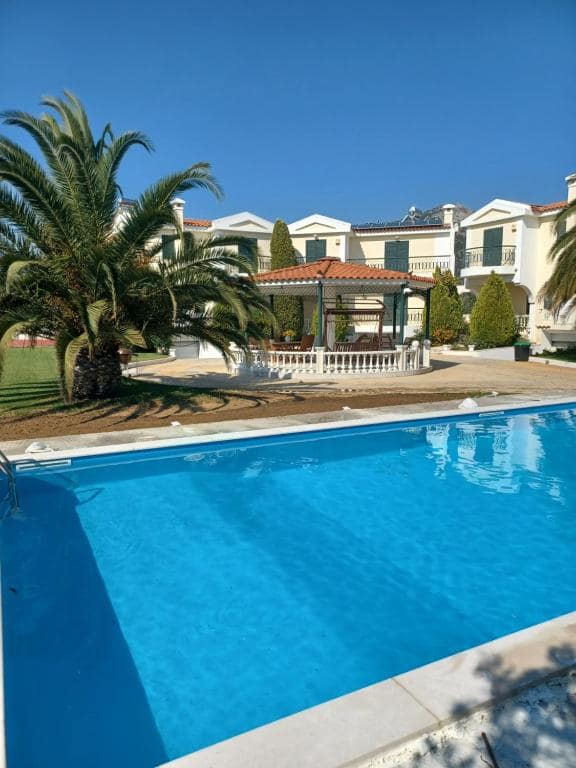 Villa Zenobia, Villa Maryam and Villa Emmanuela (each villa has an area of 200 Square Meters and can host up to 6 guests). Address: Vougiouklaki 6-8, Marathon Beach, Marathon, Attica, Greece.
See the map here
Totally the PALMAR CLUB in Marathon, Attica, Greece can host up to 18 Guests. The PALMAR CLUB in Myrsini, Sitia, Lassithi Prefecture, Crete Island Greece can host up to 3 Guests.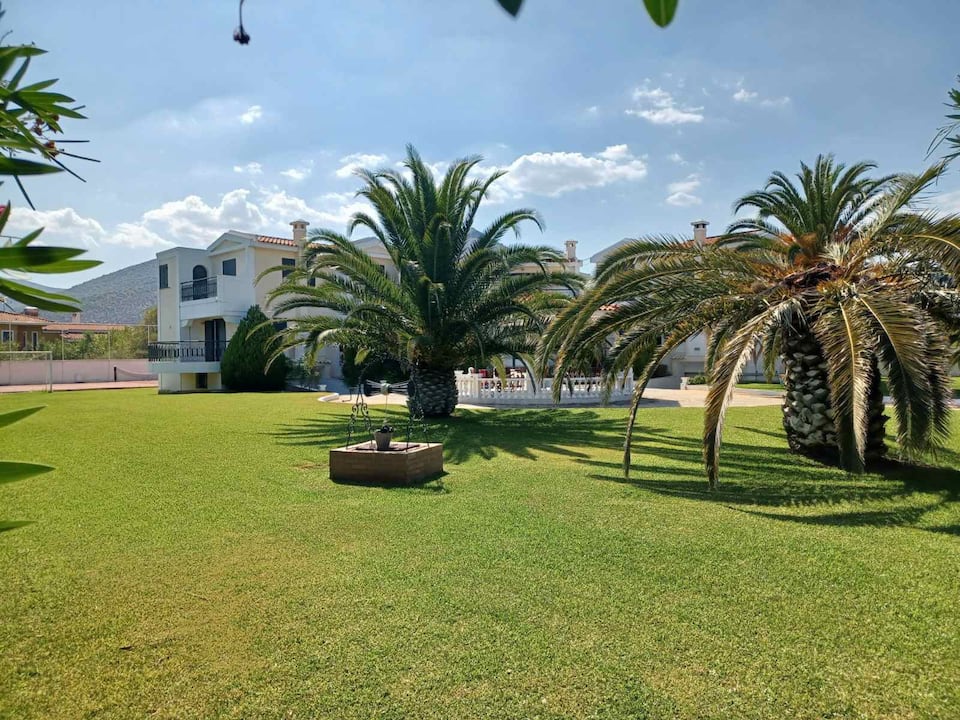 The PALMAR CLUB in Marathon Beach (40 kms from Athens), Attica, Greece is in a lush garden of 5 acres, with tennis court, basketball and mini football court, with many palm trees and other trees. It has own entrance with a private veranda with majestic sea views. Each villa of PALMAR CLUB comprises 3 bedrooms, 2 living rooms, 1 open-plan fully equipped kitchen, 2 bathrooms. It has air conditioning, wifi, private parking, tennis court, basketball court and mini soccer field for young children.

Your vacations at PALMAR CLUB in Marathon, Attica, Greece will be unforgettable. You can fulfill your professional obligations in Athens by staying at Palmar Club, after all we are only 20-25 minutes from Athens International Airport "Eleftherios Venizelos". At 100 meters, you will find dozens of taverns, on the beach, to enjoy fresh fish and wonderful local delicacies.

The PALMAR CLUB, Myrsini, Sitia, Lassithi Prefecture, Crete Island, Greece is a small House of 50 sq.m and can host up to 3 Guests. In the Magical and Exotic Myrsini, the holiday home "Villa Aphrodite" is waiting for you.

Overlooking the bay of Lassithi and the sunset of incomparable beauty and ecstasy!

Your vacations at PALMAR CLUB, Myrsini, Sitia, Lassithi Prefecture, Crete Island will be unforgettable. Myrsini is a balcony in the Aegean Sea overlooking the Gulf of Lassithi! Maybe, the most beautiful village in the Aegean Sea!

You can visit (by car) the beach of the cosmopolitan Mochlos, the historic Tower of Kornaros (Saint Antonios) and the historic villages of Mochlos, Tourloti, Sfaka, Mouliana and Lastros.

License number from Greek Tax Authorities: 00001334515

You can pay by Credit Card/ Debit Card / PayPal / TransferWise / PaySend
and of course in Cash. We accept also USDT via Binance.
Contact us for more details.
A. PALMAR CLUB in Marathon, Attica, Greece The following Rental concerns 6 guests per night.
(Each villa sleeps 6 people)


(Special Discounts for Families !!! Contact us by Phone or Email.
Special Discounts for Length of Stay over than 6 nights !!! Contact us by Phone or Email.)


2022
--------
January, February, March, April: 150 EUR / night (Friday, Saturday, Sunday: 200 EUR /night)
May: 200 EUR / night (Friday, Saturday, Sunday: 250 EUR /night)
June: 200 EUR / night (Friday, Saturday, Sunday: 250 EUR /night)
July: 250 EUR / night (Friday, Saturday, Sunday: 300 EUR /night)
August: 250 EUR / night (Friday, Saturday, Sunday: 300 EUR /night)
September: 200 EUR / night (Friday, Saturday, Sunday: 250 EUR /night)
October, November, December: 150 EUR / night (Friday, Suturday, Sunday: 200 EUR /night)



This amount will be returned to the guest by bank deposit 7 days after the Check-out.




B. PALMAR CLUB in Myrsini, Sitia, Lassithi Prefecture, Crete Island, Greece The following Rental concerns 3 guests per night.
(The house "Villa Aphrodire" sleeps 3 people)


2022
--------
January, February, March, April: 80 EUR / night
May: 90 EUR / night
June: 100 EUR / night
July: 100 EUR / night
August: 100 EUR / night
September: 90 EUR / night
October, November, December: 80 EUR / night


The guest has to pay Cash on arrival 30 Euro as DAMAGE DEPOSIT.
This amount will be returned to the guest during the Check-out.
Minimum Length of Stay: 2 nights.
Note that in a special case that somebody wants to stay only one night we have an additional charge: 30 EUR
Special Discount Prices to Groups and Special Prices to Agents.

Contact us:
Mobile Phone/Viber/Whatsapp: +30 698 6526484, 001 713 9302660
Phone of the Office: +30 210 7473313 (Our Office in Athens)
Email: palmar.club@gmail.com